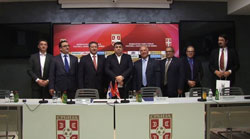 Early in January 2016 the Prime Minister of Republic of Malta Joseph Muscat visited the Prime Minister of Serbia Aleksandar Vucic. Three months after there have been important meetings and signing of agreements between business entities.
The Prime Minister of Serbia, Aleksandar Vucic, said that he is grateful to Malta for the supporting Serbia in the European integration process and
Read more: PM VUCIC - 'I am grateful to Malta for the support provided to Serbia in view of European...